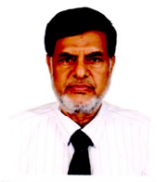 DR. MOHAMMAD QUAMRUZZAMAN
DR. MOHAMMAD QUAMRUZZAMAN
PhD. ( EEE Department, Faculty of Engineering & Technology ), University of Dhaka
HEAD OF THE DEPARTMENT
ELECTRICAL AND ELECTRONIC ENGINEERING DEPARTMENT
Welcome to the Department of Electrical and Electronic Engineering (EEE) at World University of Bangladesh (WUB).I believe, the department of EEE is the most forward-looking, vibrant and dynamic department at World University of Bangladesh. With the course of time, the department has grown to be the largest department at WUB with more than 25 full-time faculty members, and approximately 1200 undergraduate students.
The EEE Department is committed to provide an outstanding educational experience for its students and prepare them for the highest personal and professional growth. We believe in student-centered and practice-oriented education to train the future workforce and meet the challenges of existing and emerging technologies of the 21st century. Thus we focus on hiring outstanding faculty members from home and abroad, incorporate outcome based education system and build state-of-the-art teaching facilities and research laboratories.
Our students are broadly encouraged to gain out-of-the-classroom academic and research experiences, produce engineering and scientific publications, and participate in various co-curricular activities. In order to foster these activities, the department maintains program-oriented and student-centric engineering forums such as IEEE Student Branch.
Electrical and Electronic Engineering is concerned with the design, research, development, planning, manufacture and management of systems and devices relying on electricity and light to transmit data and power which underpin modern economies and contribute to the quality of human life. Many of these devices rely on the use of new information and computer-intensive technologies. An Electrical and Electronic Engineer may be responsible for Design new ways to use electrical power to develop or improve products, Perform detailed calculations to develop manufacturing, construction, and installation standards and specifications, Direct the manufacture, installation, and testing of electrical equipment to ensure that products meet specifications and codes, Investigate complaints from customers or the public, evaluate problems, and recommend solutions, Work with project managers on production efforts to ensure that projects are completed satisfactorily, on time, and within budget, Design electronic components, software, products, or systems for commercial, industrial, medical, military, or scientific applications, Analyse customer needs and determine the requirements, capacity, and cost for developing an electrical system plan, Develop maintenance and testing procedures for electronic components and equipment, Evaluate systems and recommend design modifications or equipment repair, Inspect electronic equipment, instruments, and systems to make sure they meet safety standards and applicable regulations, Plan and develop applications and modifications for electronic properties used in parts and systems in order to improve technical performance.
WUB EEE program is operating for more than ten years with name and fame, its lab and other infrastructure required to ensure that quality teaching-learning environment are quite strong. Our graduates are engaged in work and in higher education all over the world. Admission of new students in this program is challenging. In summary, the program is well established and sustainable. WUB is committed to provide quality education.