Faculty Member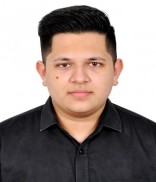 Anas Abdullah Alvi
Lecturer
Currently Pursuing Erasmus Mundus Joint Master Degree in Sustainable Transportation and Electrical Power Systems
M.Sc. in Electrical & Electronic Engineering,(2020) American International University-Bangladesh (AIUB)
B.Sc. in Electrical & Electronic Engineering,(2018) American International University-Bangladesh (AIUB)

Short Biography:
Anas Abdullah Alvi received his M.Sc. and B.Sc. in Electrical and Electronic Engineering degree from American International University-Bangladesh (AIUB) in 2020 and 2018 respectively. He is currently pursuing Erasmus Mundus Joint Master Degree in Sustainable Transportation and Electrical Power Systems. He is working as a lecturer in the department of Electrical and Electronic Engineering, World University of Bangladesh since Jan, 2018 and is currently on study leave. His general research interests are power electronics, power systems and renewable energy.
Journal Section
1. Uddin, M.S., Alvi, A.A., Mallick, M.N.H., Das, S.K., Islam, M.A. and Sultana, R., 2019, March. Performance Evaluation of a Green and Non-Concentrated Solar Thermoelectric Generator System. In 2019 International Conference on Energy and Power Engineering (ICEPE) (pp. 1-4). IEEE.

2. Bharati, S., Rahman, M.A., Mondal, R., Podder, P., Alvi, A.A. and Mahmood, A., 2020. Prediction of Energy Consumed by Home Appliances with the Visualization of Plot Analysis Applying Different Classification Algorithm. In Frontiers in Intelligent Computing: Theory and Applications (pp. 246-257). Springer, Singapore.



No Information yet
No Information yet
No Information yet
---