Faculty Member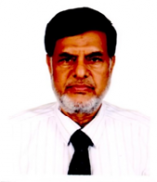 Dr. Mohammad Quamruzzaman
Professor
PhD. ( EEE Department, Faculty of Engineering & Technology ), University of Dhaka
M Sc. ( APECE Dept. Now EEE), University of Dhaka ( APECE Dept. Now EEE)
B Sc. Eng. ( EEE), John Moore University, Liverpool, England U.K.
B Sc. from University of Dhaka

Short Biography:
Dr. Mohammad Quamruzzaman is serving as a professor and head of the department of EEE, Faculty of Engineering in the World University of Bangladesh. He joined WUB in February, 2008 and was serving till February, 2011. Due to some personal reason he left WUB and was working with other Universities and has rejoined in November 2021. He did his BSc. Engineering (EEE) from the John Moore University, Liverpool, England, U.K. and completed MSc. and PhD from EEE department, Faculty of Engineering and Technology, University of Dhaka.
As a professor he has served the Islamic University of Technology (part time), Gazipur, Southeast University, Dhaka, Daffodil International University, Dhaka. In his  professional carrier he has served Bangladesh Atomic Energy Commission (BAEC) for long 29 years at different positions as Chief Engineer, Director, Director General and retired as Member (Engineering).During his service in BAEC he was involved in Planning, Research, Design and Development, Up-gradation of Nuclear Electronic Instrumentation. He has specialized training from abroad on Industrial Management and Control from England, Japan, India, Thailand, China, Vietnam and completed one year Fellowship from IAEA Laboratory, Vienna, Austria
He has implemented over 10 commercial projects with 2 Patents. He has successfully installed the first Nucleonic Control System (NCS) in Bangladesh in the Karnaphuly Paper Mills, Chandroghona,Rangamati with the Financial and Technical assistance from UNDP in1999 at the cost of US$ 1,70,000 and also
Established the First VLSI laboratory in the Institute of Electronics, BAEC, AERE, Savar as a Project of Ministry of Science and Technology at the cost of Taka 28 Crore in 2006 which was inaugurated by the Honorable Prime Minister of Bangladesh.
He has 54 Scientific and Technical publications, 45 abstract/reports, mere than 55 popular scientific articles and one book published by Bangla Academy. He was the founder Editor of the first Electronic Journal in Bangla "The ELECTRONIC SAMACHAR" and also editor of the Journal Science & Engineering of Southeast University. 
At present he is carrying out research in a specified field Titled as "The effects of Electromagnetic Radiation (EMR) on Living system and Environment from various sources especially from Communication Equipment like Cell Phone and Towers", so far 30 students have completed their projects and have 18 international publications so far. He is trying to set up a proper laboratory for this specific project.
Professor M. Quamruzzaman is a Fellow/ Member of IEB (F3072), BEIS (F025), IEE (England, U.K), JICA (M1095), BPS, BASS and BASSP. 

Journal Section
M.Quamruzzaman, Munima Haque, Md. Shohag Hossain and Muhhammad Abdur Raihan; Epidemiological Survey on the Adverse Effects of High Frequency Electromagnetic Radiation on Living Systems and Environment from Various Sources,Specially from Cellphone and Cell Towers,International conference on Electronics and Informatics 2021 by BEIS,27-28 November 2021,AECD

M.Quamruzzaman and M.Haque,NIR and its Harmful Effects specially from Mobile Phone and Tower,BES Conderence,26th June,2014 ,AECD, Dhaka, Bangladesh.

M.Quamruzzaman and M.Haque,Electromagnetic hyper Sensetivity: A case Study, Bangladesh Electronic Society Conference,19th May,2010, AECD, Dhaka,Bangladesh.

M.Quamruzzamanand M.Haque,Epidemiologycal Survey of People Working in EMF Fields Exposed to High Electric Fields,Proceedings of the Global Engineering,Science and Technology Conference,20-28 December,2012,Dhaka,Bangladesh.

M. Quamruzzaman ,Md. Serajul Islam, Md. Abu Sayid Haque, Fahmida Akter and Farhana Hafiz, "Effect of High Voltage and High Freequency on Living System and Enviornment, Journal, Bangladesh Electronics Society, Volume-5, June- 2005.

M. Quamruzzaman ,Md. Serajul Islam, Md. Abu Sayid Haque, Fahmida Akter and Farhana Hafiz, "Effect of High Voltage and High Freequency on Living System and Enviornment, Journal, Bangladesh Electronics Society, Volume-5, June- 2005.

M.Quamruzzaman, Effect of Non-Ionizing Radiation on Living System and Enviroment, The Daily Star, 30- 6-1994.

M.Quamruzzaman , The effect of Non-Ionizing Radiation, Annesha, PP=22-29, Dec. , 1990.

M. Quamruzzaman , 'Studies on the effect of Non-Ionizing radiation on living System' 19th BASS Conference, PP-9 Sl. No. 18, J.U. Section III 28-31 Oct. 1996.

M. Quamruzzaman and Md. Serajul Islam , Effect of Non-Ionizing Radiation on Living System and Measurement of Radiation from different Electronics Equipment, Technical Section, Third Biennial Conference, Bangladesh Electronics Society , June 2, 1994.Carzon Hall, Dhaka.

M. Quamruzzaman, Non-Ionizing Radiation and endangered Human civilization ( part 1) Bangla Academy Science Journal (Bi-annual) Vol. 48-49,pp=67-84, April 1991.

M. Quamruzzaman , Effect of EMF (high ferquency) on page Maker, Puorgami Biggan, BCSIR, 1997.

M. Quamruzzaman , A study of EMF and video display unit, International Synposium on Recent advance in physics Jan.21-23,1997 BUET Cumpus, Dhaka Arrenged b BPS.

M. Quamruzzaman, Revolution of manufacturin Technology (NCS), The Daily Independent, Science $ Technology,pp-10 Dated 18-01-1997.

M. Quamruzzaman , 'Studies on the effect of Non-Ionizing radiation on living System' 19th BASS Conference, PP-9 Sl. No. 18, J.U. Section III 28-31 Oct. 1996.

M. Quamruzzaman , 'Fabrication of General Purpose Oscilloscope' 19th BASS Conference, PP-4, Sl. No. 6., J.U. Section III 28-31 Oct. 1996.

M. Quamruzzaman , Effect of EMF on pacemaker, 'The Engineering news' XII. Vol. 4, Pp-15-17., Sep. 1996.

M. Quamruzzaman , Electricity and Environment , 29th Annual Conference of Institute of Engineers (IEB) Chittagong, Sl.No. 3.3, p=19, Jan 9-12, 1995.

M. Quamruzzaman , Md. Serajul Islam and G.M.H. Saekleen, Studies on the Effect of Electromagnetic Interference due to Electromagnetic Field on the elctronic Equipment and the respective Electromagnetic Compatibility, 18th Banladesh Annual Science Conference, Mymenshing,June 22-24, p=9, 1994.

M. Quamruzzaman and Md. Serajul Islam, Design and Development of Attenuator, Preamplifier, Switching and Blanking Circuits for Single Trace Oscilloscope, 18th Bangladesh Annual Science Conference Mymenshing, June 22-24, p=17, 1994.

M. Quamruzzaman , Md. Serajul Islam and G.M.H. Saekleen, Studies on the Effect of Varying Electromagnetic Field known as Non-Ionizing Radiation on Living System and on the Environment , 18th Bangladesh Annual Science Conference, Mymenshing,June 22-24, p=11, 1994.

Md. Shahidul Hoq Akond, Sarker Rafiqul Islam, M. Quamruzzaman and Md. Serajul Islam, Design and Development of Function Generator,18th Bangladesh Science Conference, (BASS) Mymenshing, June 22-24,p=12, 1994.

Md. Serajul Islam and M. Quamruzzaman, Design and Development of Switched Mode Power Supply for Personal Computer, 18th Bangladesh Annual Science , (BASS) Mymenshing, June 22-24,p=5-6, 1994.

M. Quamruzzaman and Md. Serajul Islam , Effect of Non-Ionizing Radiation on Living System and Measurement of Radiation from different Electronics Equipment, Technical Section, Third Biennial Conference, Bangladesh Electronics Society , June 2, 1994. Carzon Hall, Dhaka.

Md. Serajul Islam and M. Quamruzzaman, Design and Development of an Automatic Inverter with Upper and Lower Cutoff Voltage Using Batteruy Charged Mode100W),Technical Session, Third Biennial Conference, Bangladesh  Electronics Society, Carzon Hall, June 2,  1994. Dhaka.

M. Quamruzzaman Md. Serajul Islam , Studies on the effecs of  electromegnatic interference ( EMI ) on Electronic Equipment and the necessary modifications to minimize the effct called Electromagnetic Compatibility (EMC), 38th Annual Convention, The Institution of Engineers, Dhaka, January 18-22, p=45, 1994.

M. Quamruzzaman, Md. Serajul Islam ,  Studies on the effecs of varying electromegnatic fields on living systems and Measurement of the field Radiated from different sources., 38th Annual Convention, The Institution of Engineers, Dhaka, January 18-22, p=45, 1994.

Md. Serajul Islam and M. Quamruzzaman,  Design and Development of an Electronic      Wattmeter, 38th Annual Convention, The Institution of Engineers, Dhaka, January 18-22, p=45, 1994.

M. Quamruzzaman Nucleonic weighing Scale, 37th Annual  Conferencs of Institute of     Enginrres, Rajshahi, 17-20 January 1992

M. Quamruzzaman Nucleonic Control System in Iron And Steel Industries, 37th Annual Conferencs (BASS), of Institute of Enginrres, Rajshahi, 17-20 January 1992.

M. Quamruzzaman and Md.Serajul Islam, Design and Development of a time Base Generator for General Purpose Oscilloscope,17th Annual Bangladesh Science Conference, May 6-9,1992,pp26-27

M. Quamruzzaman and Md. Serajul Islam, Design and Development of a Trigger Circuit for a General Purpose Oscilloscope, 17th Annual Bangladesh Science Conference,(BAAS), May 6-9,pp22-23, 1992 Dhaka.                                               

M. Quamruzzaman and Md. Serajul Islam, Problems in Technology Transfer, Annual Conference, Bangladesh Electronics Society, Dhaka, p=29, April 16, 1992.

M. Quamruzzaman and Md. Serajul Islam, The Process of Energizing a Cathode Ray Tube, Annual Conference, Bangladesh Electronics Society, Dhaka,  p=25, April 16, 1992

M. Quamruzzaman, Surface Mounting Device and Technology; 37th  Annual Conference of Institute of Engineers, (IEB),  Sl. No. 4 seassion -II , June 8-11, 1991, Dhaka.

M. Quamruzzaman, Non-Ionizing Radiation; an unseen killing field; 35th Annual Conference of Institute of  Engineers, (IEB),  session -I  Sl. No. 2 June 8-11, 1991, Dhaka.

Md. Serajul Islam and M. Quamruzzaman, Design of an Automatic Delayed 0n Drop-out Relay, in the Technical section of Annual Conference of Bangladesh Electronics Society. Nov.1991, Dhaka.

M. Quamruzzaman and Md. Serajul Islam,Design and Development of X-output Amplifier for General Purpose Oscilloscope, 16th Annula Bangladesh Science Conference,(BASS) , July 5-7, p=9,  1991, Dhaka.

M .Quamruzzaman and Md.Seajul Islam,Design and Developmentof Y-output Amplifier for General Purpose Oscilloscope, 16th Annula Bangladesh Science  Conference,(BASS) , July 5-7, p=9, 1991,  Dhaka.

M. Quamruzzaman, Application of Rechargeable Ni-Cd. Battery in tropical countries, the 33rd. Annual Conference of Institute of Engineers (IEB), March 1989, Dhaka.

M. Quamruzzaman, Application of Rechaegeable Ni-Cd. Battery in portable instruments, 13th Annulal Conferenec of Bangladesh Assosiation of Advancement of Science (BAAS), June 1988, Dhaka.

M. Quamruzzaman, Nucleonic Control System in paper Industries, the 30th Annual Conference of Institute of Engineers, (IEB), Jan.11, 1986, Dhaka.

M. Quamruzzaman, the problems of Electronics Industries in Bangladesh and it's probable solution, the Second Bangladesh Electronics Symposium,  Sl. No. 6, p-12,Dec 12-13,1981. Dhaka.

M.Quamruzzaman,M.Haque,Shahina Haque,UtpalC.Das, "Electromagnetic Radiation from Cell Phones used in Dhaka city", Proceedings of SmartCom 2020,Smart Innovation, Systems and Technologies 182,Springer Nature Singapore Pte. Ltd, 2020. Chapter-14,pp=147-57, October 2020.

M Haque, Md. Quamruzzaman, Survey of Electromagnetic fields emitted from Air coiditioners and switch Boards of EEE Labs ofSEU, Bangladesh, Malayasian Journal of Public Health Medicine (MJPHM),Vol-7 Issue -2,pp=35-41 (2017)

Md. Quamruzzaman M., Haque, S. Haque,Measurement of Magnetic Field from Lab Equipment and Electrical Appliances in ETE labs of DIU,Bangladesh, Int. J. Adv. Res. Rev. 1(9),47-56(2016)

Haque M. Quamruzzaman M.,Measurement of Magnetic Field from Lab Equipment in Computer Science and Engineering Labs of SEU, Int. J. Electr. Electron.Commun.Eng., 1(1),1-11, ( 2016)

Haque M.,Quamruzzaman M. Measurement of Magnetic Field from Electrical Appliances in EEE class rooms of SEU, Universal Journal of Electrical and Electronic Eng.4(2),51-56 (2016 )

Haque M, Quamruzzaman M., Health effects of EMF emitted from Cell Phones used by the students of SEU, Bangladesh, J. Sci. Eng.,vol-10, issue-1,pp=28-38 (2016)

Munima Haque, M.Quamruzzaman,ShahinaHaque,"Measurement of Magnetic Field Emitted from Electricals Appliances in CSE Labs and Classrooms of Southeast University, Bangladesh"IJSER,Vol.7,Issue 10,October,2016. 

Munima Haque, M.Quamruzzaman, "Survey of EMF Emitted from Lab Equipments and Air conditioners in Textile Engineering Labs of Southeast University, IJIREEICE, Volume 4,Issue 3,March 2016

M. Quamruzzaman, and M. Haque, "Epidemiological Survey of People Working in EMF Field Exposed to High Frequency" Proceedings of the Global Engineering, Science and Technology Conference 2012, 28-29 December, Dhaka, Bangladesh 2012

M. Quamruzzaman, Munima Haque, Farruk Ahmed, Md. Shabab Zaman.  "Effects of Electromagnetic Fields (EMF): A Case Study" Bangladesh Journal of Medical Physics. Volume 7, Issue 1, 2014

M. Quamruzzaman, M.Haque, "Non Ionizing Radiation (NIR), its harmful effects especially from Mobile/Cell Phone and Towers" Southeast University Journal of Science & Engineering, volume 8, 1:2, 2014

Munima Haque, Md. Quamruzzaman, "Epidemiological Survey on Effect of EMF emitted by photocopy machines generally used in Dhaka City Bangladesh" International Journal of Research in Engineering and Technology Volume: 04 Issue: 04, April 2015

Munima Haque, Md. Quamruzzaman, "Survey of EMF emitted by Lab equipments in various labs of Southeast University in Bangladesh for possible preventive health hazards" IFRSA International Journal Of Electronics Circuits And Systems. Volume 4, issue 1, January 2015

Munima Haque, Md. Quamruzzaman, "Survey of EMF emitted by Lab equipments in Pharmacy Labs of Southeast University in Bangladesh" International Journal of Research in Engineering and Technology Volume: 04 Issue: 09, September 2015

Munima Haque, Md. Quamruzzaman, "Survey on Effect of EMF Emitted by CRT Computer Monitors in Bangladesh" Universal Journal of Electrical and Electronic Engineering. Volume: 03 Issue: 05, September 2015

M.Quamruzzaman, M.haque  Survey Studies on Effect of Electromagnetic Fields on Living systems  and Environment, Southeast University  Journal of Science and Engineering, Vol.6 IssueNo.6, 2013.

Fahmida Akter, Farhana Hafiz, Md. Abu Sayid Haque and M. Quamruzzaman, DESIGN AND DEVELOPMENT OF PORTABLE RADIATION DOSE RATE METER. Journal of Bangladesh Electronics Society, Vol. 5, No. 2, December 2005.

M. Quamruzzaman, Electrohealing, (the medicine of the future), IEMS, ITR-25, Dated 24/02/97.


Fahmida Akter, Farhana Hafiz, Md. Abu Sayid Haque and M. Quamruzzaman, DESIGN AND DEVELOPMENT OF PORTABLE RADIATION DOSE RATE METER. Journal of Bangladesh Electronics Society, Vol. 5, No. 2, December 2005.

M. Quamruzzaman, Technology Development and Management, IEMS, ITR-24, Dated 19/06/95.

M. Quamruzzaman, Technology Development and Science and Technology Policy of Bangladesh, IEMS, ITR-23, Dated 07/06/95.


M. Quamruzzaman, Electricity and the Environment, IEMS, ITR-22, Dated 07/-6/95.

M. Quamruzzaman and Md. Serajul Islam, Nucleonic Control System ( NCS ) in Industries, A case study: Chittagong Steel Mills Ltd; Nuclear Science and Applications, BAEC.  

M. Quamruzzaman, 3-D Television, The Engineering News, Vol. 6, pp= 33-37, July,1994.


M. Quamruzzaman, TOBI, the Deep Oceain Going Survey Instruments, The Engineering News, Vol. 4, pp= 11-16, May 1994.

Md. Serajul Isalm and M. Quamruzzaman, Design and Development of Relay Control AC Voltage Stabilizer with Upper and Lower Cutoff Voltage and Time Delay, Journal of Bangladesh Electronics Society, Vol. 3, No. 1, pp=5-8, 1993

Md. Serajul Islam and M. Quamruzzaman,  Design and Development of an Automatic Inverter with Upper and Lower Cuttoff Voltage Using Battery Charged Mode, Journal of the Bangladesh Electronics Society, Vol. 3, No. 1, pp=1-3, 1993.

M.Quamruzzaman, Nuclear Weighing Scale,  Internal Technical Report,IEMS-ITR-14, Nov. 1992.

M. Quamruzzaman, Application of Nucleonic Control System (NCS) in Iron and Steel Mills: A case study: Chittagong Steel Mills Limited, Internal Technical Report,IEMS-ITR-13, Sept. 1992.

Md. Serajul Islam, M. Quamruzzaman and Abu Taher, Design and Development of a    Regulated D.C. Power Supply/Battery Charger, Journal of the Institution of Engineers, Bangladesh, Vol. 21,  No. 1,  January, p=69-73, 1993.

Md. Serajul Islam and M. Quamruzzaman,  Design and Development of Variable High Voltage Power Supply Using  the Phase Angle Control, Journal of the Bangladesh  Electronics society, Vol 2,  No. 1,  p=23-24, 1992

Md.Serajul Islam, M.Quamruzzaman and Md.Enamul Haque, Design and Development of Relay Control Auto Over-Voltage and Variable Over-Current with Time Delay and Alarm Circuit, Journal of the Bangladesh Electronics Society, Vol. 2, No. 1, p=29-31, 1992.

M.Quamruzzaman,Non-Ionizing Radiation and Endangered Human Civilization (part2)     Bangla Academy Science Journal Vol.1 , 19th Year, pp=33-51, September, 1992.

M. Quamruzzaman, Problems of Electronics Industrialization in Bangladesh and it's Solutions, Procceding of the Second National; Electronic Symposium, pp= 21-23, Dec 12-13, 1991, Dhaka. 

M. Quamruzzaman, Non-Ionizing Radiation and endangered Human civilization (part1) Bangla Academy Science Journal (Bi-annual) Vol. 48-49,pp=67-84, April 1991.

M. A. Hussain, M.A. Chowdhury and M. Quamruzzaman, Design and Construction of a Constant Voltage Time Base Generator, Jahangirnagar Physics Studies, Vol.6, pp= 45-54   1991.

M. Quamruzzaman, Surface Mounting Devices (SMD) and surface Mounting Technology(SMT), Internal Technical Report,IEMS-ITR-12, June 1992.

M. Quamruzzaman, Video Display Unit: Its adverse effects on human body and the future of Video Displa Unit(VDU), Internal Technical Report, IEMS-ITR-8, June, 1991.

Md. Sirajul islam and M. Quamruzzaman, Design of an Ultrasonic Testing device  for crack          detection , Journal of Bangladesh Electronics Society, Vol. 1., No.1, P==33-34, 1991.

Md. Serajul Islam and M. Quamruzzaman,  Design and Development of Variable High Voltage Power Supply with  Over-Current Alarm and Time Delay, Journal of the Bangladesh Electronics Society Vol. 1, No. 1, p=24-36, 1991                                                      


M. Quamruzzaman, Non-Ionizing Radiation and its adverse effects on human body,    Internal Technical Report, IEMS-ITR-9, June 1991.


Md. Serajul Islam and M. Quamruzzaman, Design and Construction of a Microprocessor     Based Remote Control System , Internal Technical Report,IEMS-ITR-10, April ,1991

M. Quamruzzaman and Md.Serajul Islam,  Design and Development of  Low Voltage Power Supply and High Voltage Power Supply (E.H.T.) to  energizes the C.R.T. of General  Purpose Dual Trace Oscilloscope,  15th Annual  Bangladesh Science Conference ,July 16-19, p=39-40, 1990. 

M. Quamruzzaman and Md. Serajul Islam, Design and Development  of Attenuator and                      Pre-Amplifiers for Y-amplification of a General purpose Dual  Trace Oscilloscope, 15th Annual Bangladesh  Science Conference. July 16-19,p=21-22, 1990.

Md. Serajul Islam and M. Quamruzzaman, Regulated  D.C. Power Supply/BatteryCharger", 15th Annual Bangladesh Science  Conference, July 16-19, p=28-30, 1990.

M. Quamruzzaman, Cellular Radio System,Internal Technical Report, IEMS-ITR-7,March, 1989.

M. Quamruzzaman, High Definition Television, Internal Technical Report,IEMS-ITR-6, March,


A.M.Chowdhury, Md. Serajul Islam and M. Quamruzzaman, Design and development of Electronic Gas       Detector, Jahangirnagar Physics Studies, Vol. 4, pp= 50-55, 1988.


M. Quamruzzaman, Rechargable  Nickel-Cadmium  Battery for Portable Radiation Monitor, International Atomic Energy Agency,  Tech.  Pub. No. IAEA/RL/153, August, 1987 Vienna,  Austria.

M. Quamruzzaman, M.Emdad Hossain and Md. Ashrafuddin, Report  on the Feasibility Study of  the application of Nucleanic Control System in Bangladesh Paper Mills , a joint vent ure of  Bangladesh  Chemical Industries Corporation ( BCIC )and Bangladesh Atomic Energy Commission (BAEC) , August, 1986.        

M. Quamruzzaman, Fibre- Optics : It's present and future, Journal of the Bangladesh Physical Society (BES) The Physists, Vol. 9, No. 1,pp=9-15, 1986.

M. Quamruzzaman, Fiber-Optics: Its present and future, Internal Technical Report, IEMS, ITR-4, July,1985.

M. Quamruzzaman, Nucleonic Control System (NCS) and its applications in  Bangladesh,Internal Technical Report, IEMS,ITR-3, July, 1985

M. Quamruzzaman, Application of Nucleonic Control System in the Paper Mills of Bangladesh,  Mechanical Engineering Research Bulletin, Bangladesh University of Engineering and Technology,(BUET)  Vol.8,pp= 17-25,1985
| SL | Collaboration & Membership Name | Type | Membership Year | Membership Expire Year |
| --- | --- | --- | --- | --- |
| 1 | Institute of Electrical Engineers(IEE) , London,England, U.K | Member -16578755 | 1980 | |
| 2 | Japan International Cooperation Agency (JICA) | Member 1079 | 1986 | |
| 3 | Bangladesh Electronic and Informatics Society(BEIS) | Fellow (025) | 1990 | |
| 4 | Institute of Engineers Bangladesh (IEB) | Fellow (3072) | 1992 | |
No Information yet
| SL | Certificate Title | Institution | Year | Country |
| --- | --- | --- | --- | --- |
| 1 | Post graduate course on industrial and technological management. | BUET | 1994 | Bangladesh |
| 2 | Training on Project Management and Industrial management. | Ministry of Planning, GOB | 1984 | Bangladesh |
| 3 | Nucleonic Control System in Paper Industries(NCS) | Siam craft Paper Industries | 1992 | Thailand |
| 4 | Nucleonic Control System in Paper Industries(NCS) | Sanghai Institute of Process Instrumentation | 1986 | China |
| 5 | Nucleonic Control System in Paper Industries(NCS) | Japan Paper Industries | 1999 | Japan |
| 6 | Industrial Management , production, assembling, testing and quality control of industrial products, control panels for various industries | Geo. L. Scot & company Ltd.Liverpool. | 1977 | United Kingdom |
| 7 | Fellowship in Seibersdorf Laboratory. | International Atomic Energy Agency (IAEA) | 1987 | Austria |
---